Indians have awaited from a long time for electric cars, the main advantage on electric cars is it won't need any fuel to run which will save the burden of rising prices of Diesel and Petrol. Electric cars are always Respected, Preferred & Will Be Used due to its contribution to the nature. Government has come up with projects like "Kamuthi Solar Power Project" to increase the electricity to upcoming future.
We have good news that some cars have already been launched into the Indian market and are picking up pace slowly. Here are all the
Electric Cars In India 2020
1.Hyundai Kona Electric
Here is Hyundai Kona, there are two variants both begin automatic. The offroad price varies from 23.75 - 23.92 Lakhs. This electric compact suv comes with a 100kW motor which has the ability to cover 452km per full charge, the 50kW electric fast charger can charge up the car from 0% -80% in just 1 Hour and other 7.2kW AC box wall charger suitable to install in home garage takes about 6 hours to fully charge. Hyundai Kona comes with high safety features like Six Airbags, Electronic Stability Control(ESC) , Vehicle Stability Management, Hill Assist Control, ISOFIX child seat anchorage , Disc Brakes , Rear View Camera , Parking Sensors , Tyre Pressure Monitoring & Alerts, Much More. This 5 seater car comes with elegant black interior which comes with features like head rest for both the front passengers, Futuristic 7 inch touch screen, Electric parking breaks, Wireless phone charger & Old school standard AC followed by USB-AUX port. Now coming to performance, with a impressive acceleration of 0-100 kmph in just 9.7 seconds which is very impressive, power of 136ps & Torque of 40.27kgm all this with zero emission. Hyundai kona comes with exciting four modes Eco,Eco+,Sport and Comfort which uses single speed transmission.
2.MG ZS EV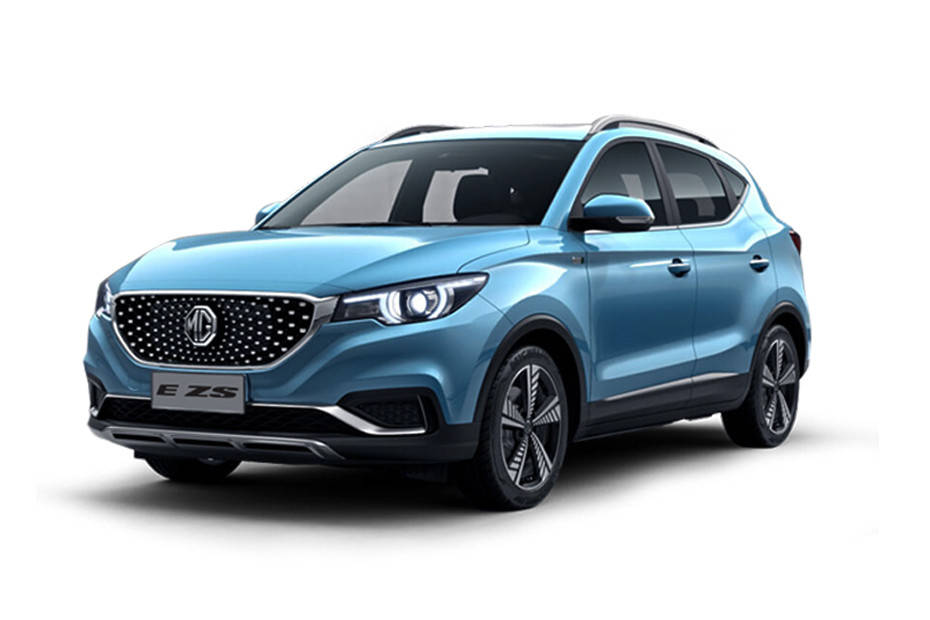 ZS EV SUV has been launched by MG Motor India in two variants. Off road price of this compact suv is 20.88 - 23.58 Lakhs which is pretty much same as Hyundai Kona, it has got 2800 pre bookings before launch with a custom off road price of 19.88 lakhs from MG. It has power of 140.8bhp@3500rpm and Torque of 353Nm@5000rpm. They claim that MG ZS EV can travel upto 340 kms in a single full charge. The fast charger of this vehicle can charge this vehicle form 0% - 80% in just 50 minutes, of course using a DC fast charger. MG ZS EV is a 5 seater and comes with some exciting features like 8 inch touch screen with built in android and apple carplay, Sunroof, Cruise control, Hill Assist, 360 view Camera, Hill Descent Control, 6 Airbags, Anti-lock Braking system, Electronic Brake force distribution (EBD) , Brake Assist (BA) , Engine Immobilizer, Central Locking System. MG ZS EV has a very impressive record of 0-100 k/hr in just 8.2 seconds.
3.Tata Nexon EV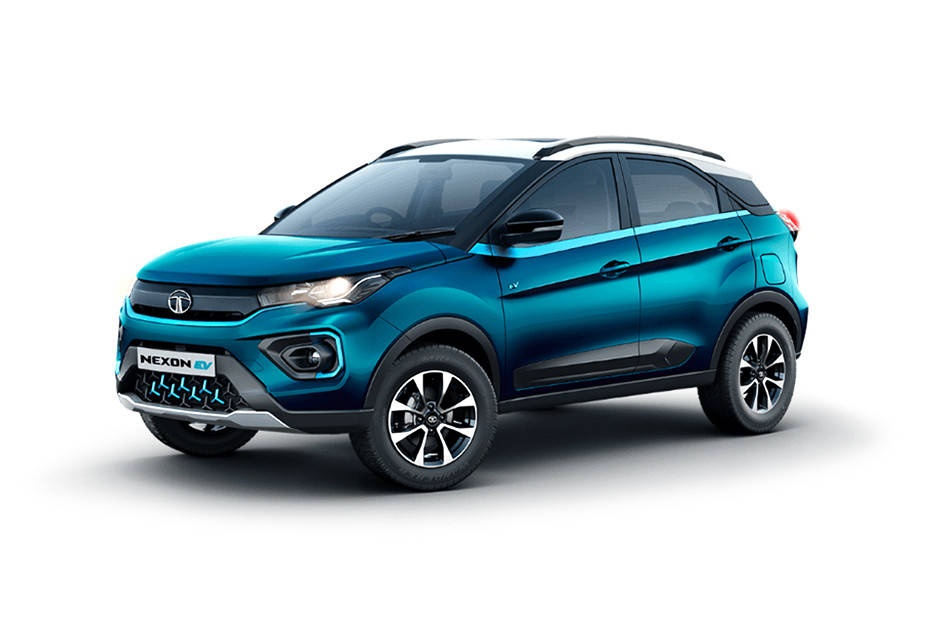 After the launch of Tata Tigor EV, Tata Motors have launched their second electronic car Tata Nexon EV. The off road price ranges from 13.99 - 15.99 Lakhs which is much reasonable compared to it's rivals Hyundai Kona & MG ZS. Tata Nexon is available in three variants XM, XZ+ & XZ+ LUX. It is fully automatic and has a power of 127bhp and Torque of 245nm attains a speed of 0-100kmph in just 9.9 seconds. It has a battery of 30.2kWh which charges 0%-80% in less than a hour. Impressive run of 312km in one full charge according to ARIA. It also comes with a bundle charger of 3.3Kw that can charge the battery in eight hours. It is available in three different colors some of them only available in specific models. The vehicle comes with advance health monitor system which triggers if there is anything wrong with the system or the car. It stands out with 16inch diamond cut alloys, of course in higher variant. It keeps it interesting with its Leather seats, Rear seat head rest, Alloy wheels, Projector Headlights, LED Tail lamps, Cornering fog lights, Rear view camera, Roof rails, 8 High quality speakers, Two types of drive modes, Anroid-Apple play, USB input. Auto rain sensing wipers, Sun roof and much more. When it comes to safety this car is equipped with ISOFIX Child seat mounts, 6 airbags, ABS,EBD,ESP,Central Locking, Child safety lock, Rear defogger & much more. This looks solid on Indian roads which has made its place in one of the best electric cars in India.
4.Tata Tigor EV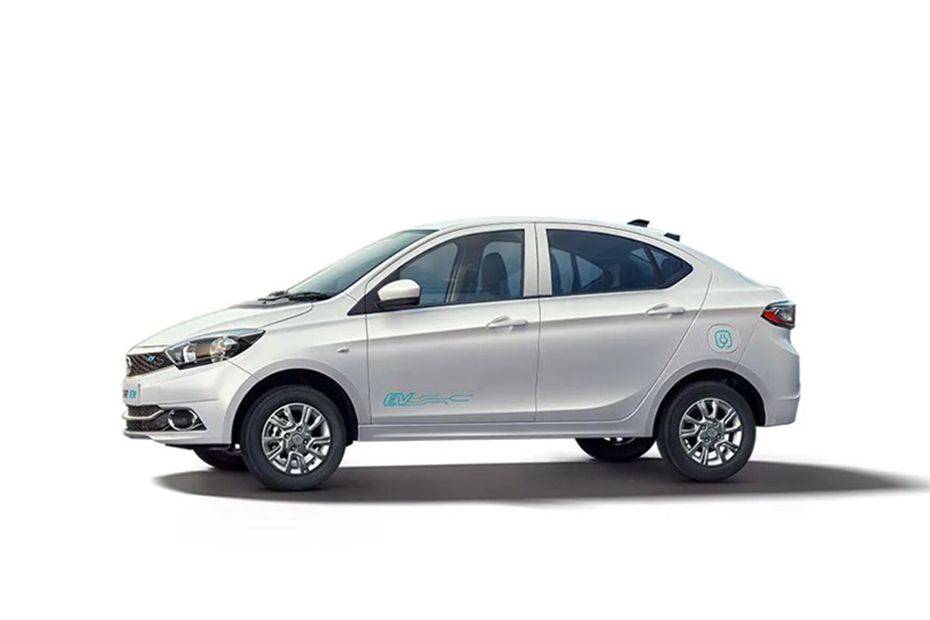 Here comes the first launch of Tata Motors in EV segment, Tata Tiagor EV. The off road price of this commercial used car ranges from 12.59 - 13.41 Lakhs. It is available in three variants XE+ , XM+ AND XT+ . It is available in two colors White and Blue, some begin available in only specific versions. This five seater car has automatic transmission with decent boot space. This EV has21.5kWh powertran that drives 72V-3 Alternating Current induction motor. Motor of this EV generates 41PS of power and 105Nm of Torque. It has exciting features like Daimond front grill, Crystal tail lamps, EV Decals, Alloy wheels,Fin antenna and LED stop lamp, Automatic climate control, Decent fabric seats. This car is mainly launched for commercial purpose like cabs, government is providing scheme where you get this car for a lower price somewhere between 9 - 10 lakhs (ex-showroom). We are not sure weather this car is launched for private users.
5.Mahindra E2o Plus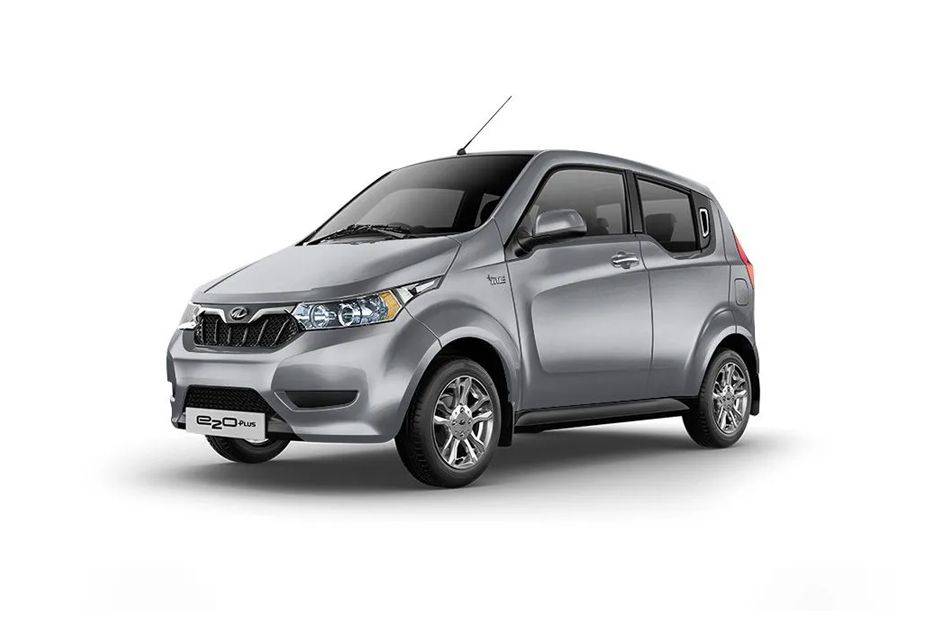 Mahindra e20 Plus is a 4 seater hatchback launched in 2016 by Mahindra Motors. This unique looking car comes with automatic transmission powered by 3 phase AC Induction Motors with the power of 19kW@3500r/min and Torque of 70Nm@1050 r/min. The dimensions of this car will help you to cruise through the Indian traffic easily. It is offered in 3 variations P2, P4 and P6 with driving range of 140km,110km & 110km respectively. It has two chargers 3kW single phase 16A charger which takes upto 7 hours 20 minutes to fully charge, another one is 10kW 3 phase 32 A charger which comes with only P2 model which takes upto 1 hour 35 minutes to fully charge. The battery is 280 Ah Lithium Ion battery for P2 and 210 Ah Lithium Ion battery for both P4 and P6. It looks small but it has got some great features like Touch screen, smartphone integration, climate control, navigation system, 135L boot space, Front disc brakes, Electric locking system and much more. It has a top speed of 80km/h, it is claimed that it can go from 0-60 kmpl in 14.1 seconds.
6.Mahindra E Verito
In June 2016 Mahindra Electric has launched the sedan e-verito with a reasonable off road cost ranging from 9.12 - 9.46 Lakhs. There are two variants in offered in E Verito D2 and D6 with a range of 181kms with one full charge.The battery used in this vehicle is 288Ah Lithium Ion battery. There are two chargers offered with this vehicle one is Normal charger will take 12 Hours to fully charge, another one begin Fast charger which takes 1 hour 30 minutes to charge from 0%-100%. The motor build in this vehicle is 3 Phase Induction Motor with power of 31kW@4000 r/min and Torque of 91Nm@3000 r/min. Decent experience driving with Front disc, Rear drum and manual parking breaks . The steering comes with power assisted elector-hydraulic capability. Coming to the performance it has a top speed of 80 km/h and claimed that it can go from 0-60 km/h in 11.2 seconds. Comes with two driving modes which is quite impressive one begin ECO and another one begin BOOST. Safety covers 2 airbags, ABS, Auto door locking while driving, Rear parking sensors, Side Intrusion Beams,Collapsable streering column, Digital Immobilizer. As it doesn't have any combustion it comes with low maintenance cost. Government has offered wide range of tax exemptions and benefits to boost nature and for a better future.